Bullets
If you're going to meet today's toughest standards, and even tougher standards of the future, you're going to need a partner that provides innovative inspection technology. Technology that gives you the confidence to assure customers their exact requirements will be met. Technology that lets you raise product quality and uniformity to new levels. Technology that gives you a competitive edge in value. For the past 25 years General Inspection LLC has been helping manufacturers around the world reduce their parts per minute defect levels to almost zero with our Automated Inspection Equipment (AIE) for ammunition.
Bullet & Penetrator Sorting
Gi-360T
The Gi-360T is a 3-D 100% inspection machine. Precision split/narrow laser beams, multi laser velocity gauge and system 22 modeling of threads are used to accurately measure parts to print specs and tolerances. It uses 3-D information from multiple laser beams to detect defects…
Gi-200
The Gi-200 is a 100% inspection machine equipped with a single precision split/narrow laser beam and multi-laser velocity gauge used to measure a single profile of rifle bullets to print specifications.
Download our Ammunition Inspection Overview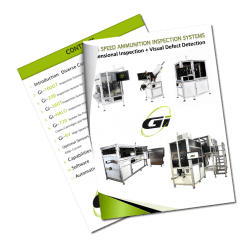 CLICK HERE TO DOWNLOAD