Fastener Inspection Systems
General Inspection provides high speed fastener inspection systems with standard easy to use software that provide zero defect quality. Each high-speed fastener inspection machine has flexibility to measure and inspect various fasteners and their characteristics to print specifications. The systems ensure that the products you deliver are of the highest quality.
General Inspection is proud that our high speed fastener inspection systems have been serving the automotive industry for over thirty years. However, these high speed inspection machines are also used in several other global industries, such as: aerospace, industrial, railway, medical, and more.
Bolts/Screws/Ball Studs/Double Ended Studs
The Gi- HALO bolt inspection machine, is the most budget friendly machine and uses a series of four advanced proprietary vision systems to detect defects. This Multi-View system provides images from all around the part which measures all dimensions and find visual defects (like cracks, burrs, missing or damaged threads, gouged shank, etc…)…
Bolts/Screws/Ball Studs/Double Ended Studs
The Gi-360T is a 3-D 100% inspection machine. Precision split/narrow laser beams, multi laser velocity gauge and system 22 modeling of threads are used to accurately measure parts to print specs and tolerances. It uses 3-D information from multiple laser beams to detect defects…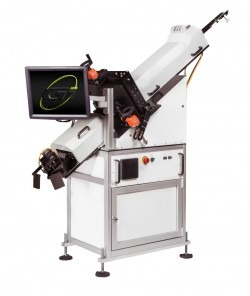 Bolts/Screws/Ball Studs/Double Ended Studs
VisionLab is the ultimate gauging and inspection solution for threaded fasteners. The system comes standard with backlighting and a smart motor controlled rotating stage.  This patented system can process 360 part profiles in less than 10 seconds providing the most accurate and repeatable dimensional inspection results.  
Nuts/Washers/Bushings/Clips
The Gi-100 inspection system is a high-speed vision based measuring machine used for cup inspection. This system incorporates a series of front and back lit cameras to calculate a part's height, profile and inner/outer diameters.