High Speed Bolt and Screw Inspection System
Up to 500 parts per minute
AND LESS THAN 6 minutes
for part changeover
Diameters from 2mm to 38mm
Lengths from 10mm to 100mm
>.008mm diameter repeatability
>.020mm length repeatability
The Gi-HALO is designed to accommodate headed fastener parts (bolt inspection machine, screws). Simple hang by head feeder can be mated up to the Gi-HALO for easy change overs.
Size: 63″ x 48″ x 98″  2,100lbs
Rates: Up to 300 PPM
Part Diameter Range: 2mm to 38mm
Part Length Range: 10mm to 100mm
Power: 110v-230VAC 50-60Hz 1 Phase
The Gi- HALO is a bolt inspection machine that uses a series of  four advanced vision cameras to measure and detect visual defects. This multi-view system provides 360 degree inspection.  8 images (4 Frontlit and 4 Backlit) from the four cameras   measures all dimensions and detects visual defects such as cracks, burrs, missing or damaged threads, dents, gouges.
The HALO inspection system comes standard with 4 cameras with 4 backlights and 2 surface illuminating front lights (one from the top and one from the bottom). The backlights provide 360° profile measurements and the front lighting provides 360° surface defect detection.  A patented light sequence process generates 8 images from the 4 standard cameras.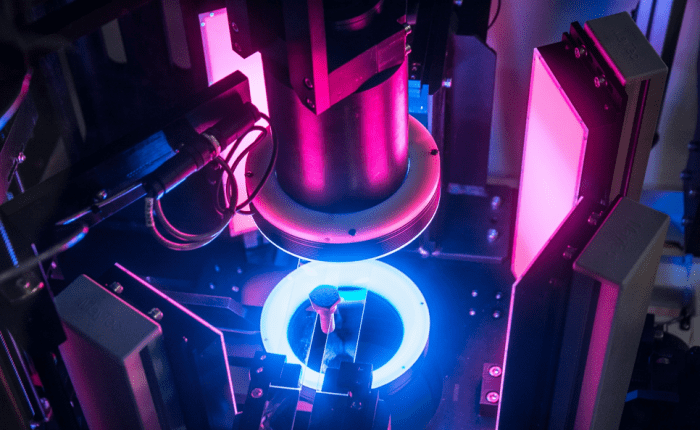 The Gi-HALO sorting machine provides the ultimate inspection for bolts. Its' unique, simplified part handling lends itself to inspecting the entire part: Top, side and bottom as well as metallurgical anomalies. Uniquely, the top front light is utilized by Gi's optional Axial View lens to detect head/flange cracks. The bottom front light is utilized by a set of optional cameras to inspect the bearing surface for cracks and other visual defects.  Another optional top camera can be added to measure recesses and detect damaged, filled or malformed recesses. And finally, eddy-current can be added to detect the presence of heat-treatment.
Provides measurement of dimensional characteristics. Has the ability to measure max, min or average, simultaneously or separately: radii, concentricity, straightness, lengths, diameters, and tapers etc.
The same 4 cameras providing dimensional measurements, are also detecting surface imperfections such as; cracks, burrs, missing or damaged threads, dents, gouges.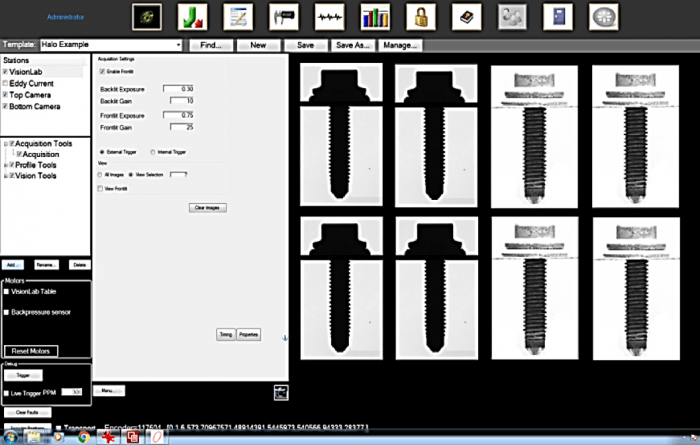 Easy to use, menu-driven software allows for fast set-up as each part feature is clearly defined using part print specifications. Templates are created, saved in memory and recalled virtually eliminating operator error through administrative controls and password protection.
Every part measured by HALO is tracked and complete data sets are available in excel or CSV form organized by date, time and lot identification based on user criteria.  A barcode scanner can be implemented by simply plugging in to one of the several USB ports that come standard on the HALO.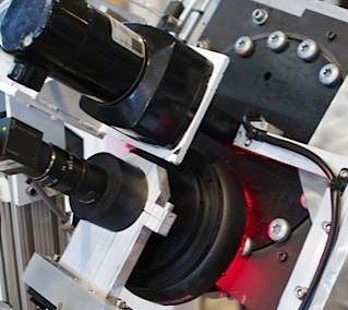 Can be added to the Gi-360T to detect head or flange cracks.  The unique optics "unwrap" the OD for 360º defect detection without stopping or rotating the part allowing for crack detection at rates up to 400 parts per minute

Multi-View (4 Cameras)
Back Lighting Dimensions
Multi-View (4 Cameras)
Front Lighting Visual Defects
Bottom Cameras
Requires glass inserts*
MEASUREMENTS & DEFECT DETECTION
Measure: Threads – Major Diameter, Minor Diameter and Pitch Diameter, Lengths, Diameters, Radii, Concentricity, Straightness & Perpendicularity
Rifled Hex, Thread Nicks, Knurl Damage, Shank Damage & Plating Defects
Torx Fill, Chipped Punch, Recess Shape/Size, Flange Damage, Hex Corners/Flats
Bearing Surface Damage*, Tip Drive, Internal Defects, Weld Nib Inspection
Head Cracks, Flange Cracks, Damage
Heat-Treatment, Plating, Seams and Material Mix
Top or Bottom Standard Vision