Reach Out For A Free Web Demo

The World's Most Advanced Inspection System
VisionLab is the ultimate gauging and inspection solution for ammunition parts. The system comes standard with backlighting and a smart motor controlled rotating stage.  This patented system can process 360 part profiles in less than 10 seconds providing the most accurate and repeatable dimensional inspection results.
3D Inspection Models:
VisionLab 75 &150
Several options are available to enhance the systems overall capability.  Combining various front lighting options, staging tools and software to  provide complete part layouts and 3D renderings for prototype and reverse engineering functionality.
VisionLab incorporates user friendly, time saving software. Part templates are created in minutes and saved in memory by part number then recalled for instant inspection. Complete part layout inspection takes less than 10 seconds, regardless of the number of part features.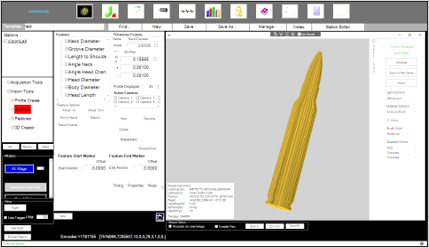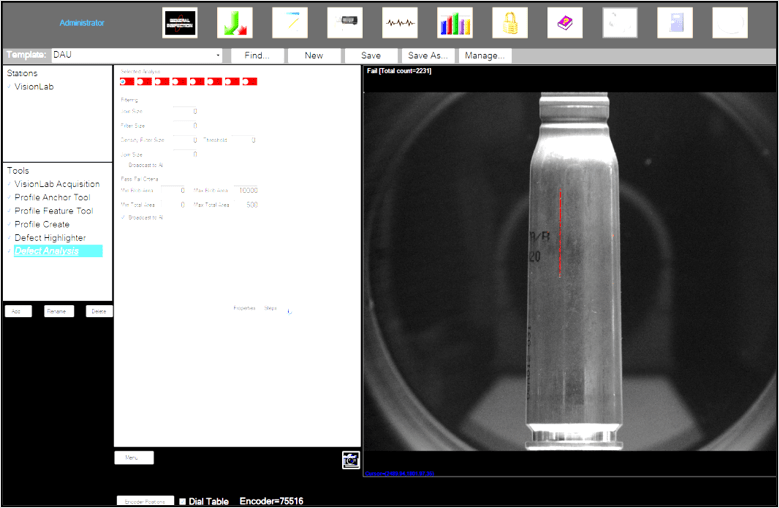 The VisionLab offers the unique option of adding top front lighting to illuminate the OD surface of parts to supplement the complete dimensional inspection with surface defect detection. Gi's patented light sequencing process provides complete part coverage to ensure each detail of every part is analyzed. 
Features Measured and Defects Detected Using Top Front Lighting Option
Split(s)
Perforations
Scaly Metal
Discoloration / Dirt
Dents
Draw Scratch
Split Jacket/Exposed Steel
Taper Fold
Wrinkle
Buckle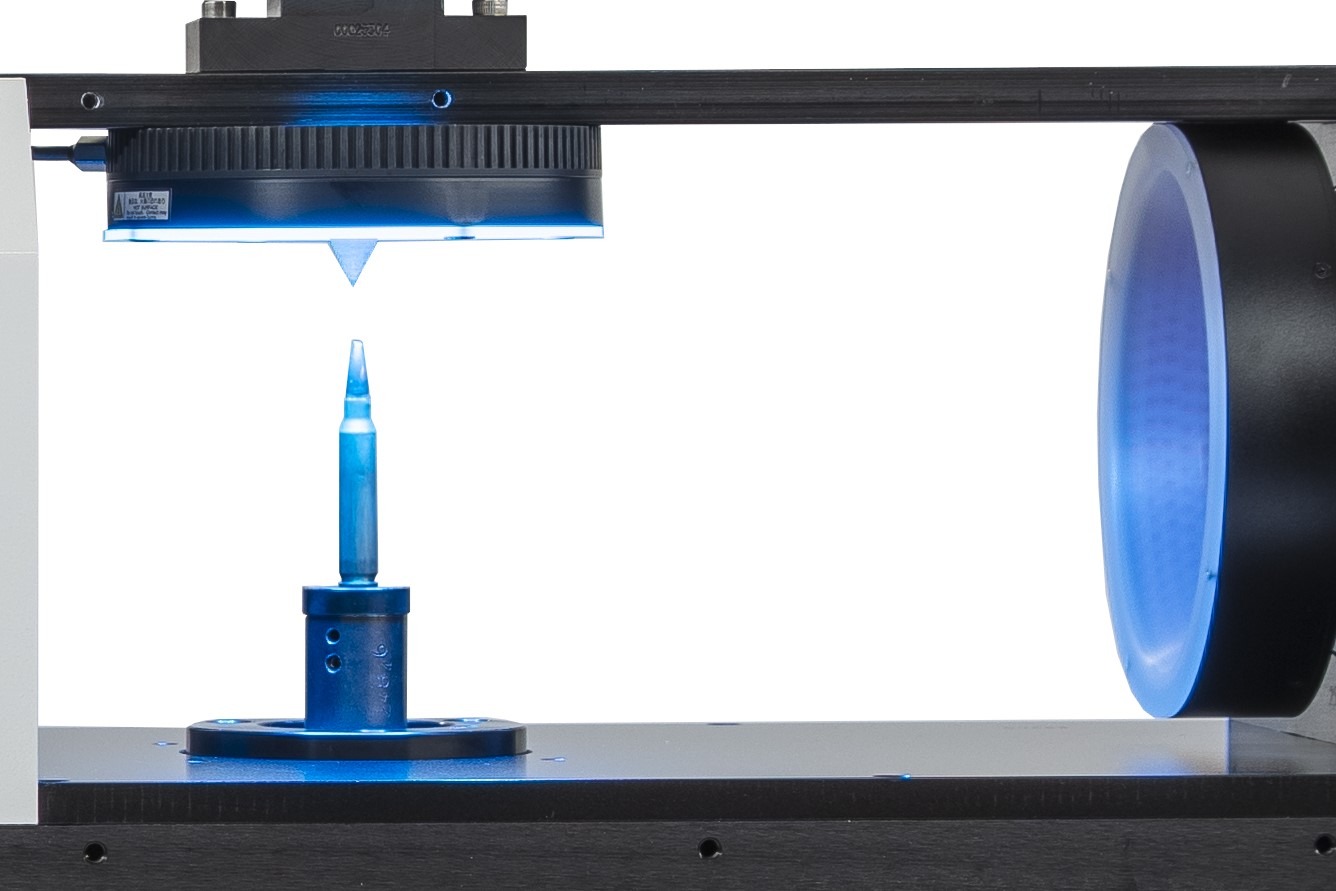 Added to measure and detect defects on both the mouth and primer ends. Features such as recesses, inner/outer diameters, through holes and counterbores are measured. Visual inspection such as head marking quality, damage, crimping and plating defects are measured and detected. 
Features Measured and Defects Detected Using End View Lighting Option
Mouth OD
Mouth Roundness
Mouth ID
Mouth Rim Thickness
Primer Pocket OD and ID
Primer Pocket Concentricity
Flash Hole Diameter
Flash Hole Concentricity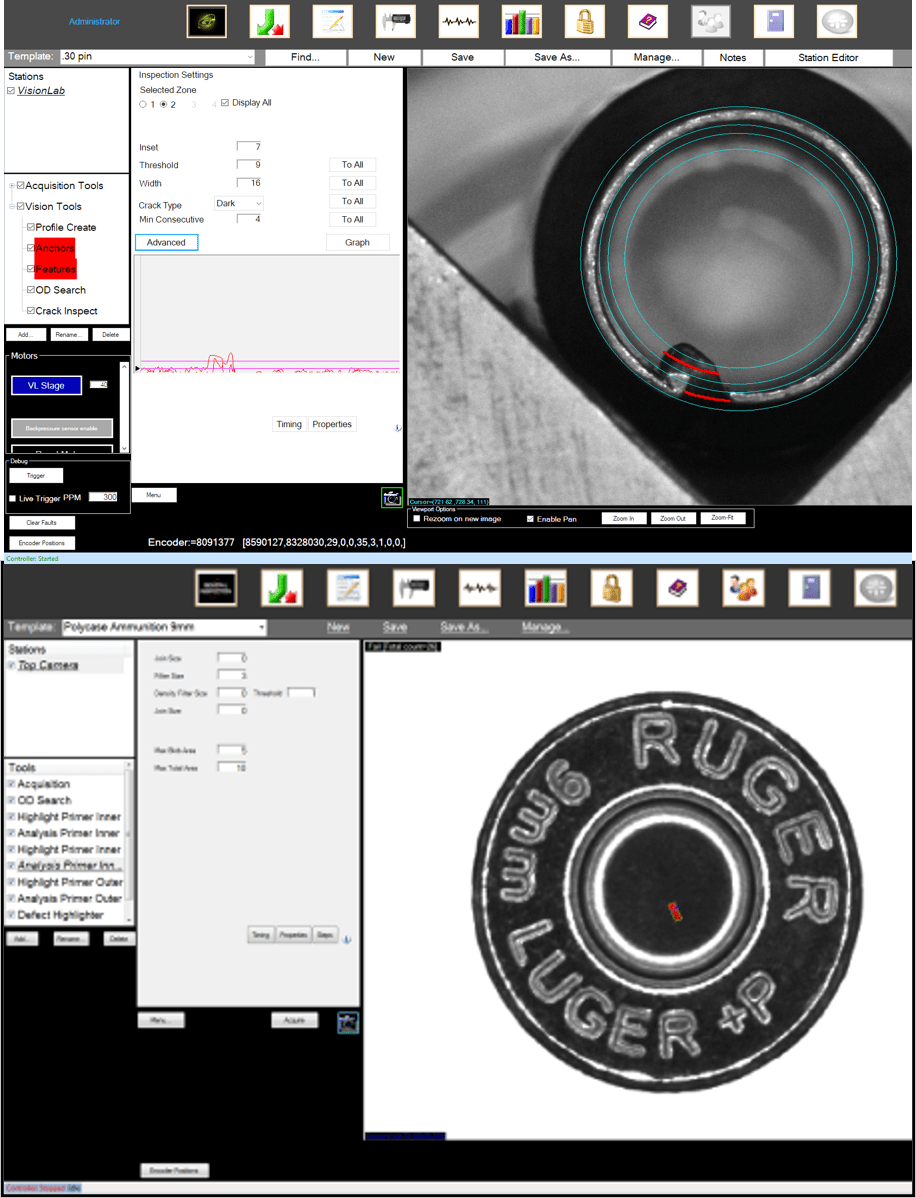 Upper Tooling and Bit Kit
Optional tooling can be added to assist with staging parts.  The upper tooling is spring loaded for quick part placement.  A bit kit is provided to measure recess or bore depths
Bit Kit – Recess Depth
Bits are a known height. By measuring from known height to the end of the head, the recess depth is measured
VisionLab X – Automated Vision System
By Incorporating automation VisionLab offers all the same functions minus requiring an operator load parts. With the addition of a part feeder and custom trays, VisionLab can be fully automated to run batches of single part numbers or it can be set-up to handle multiple parts with the ability to inspect, sort and classify.